If your looking for children's entertainment for your next corporate event then we have you covered. With entertainment suited for small and large events we have a range of different entertainment options to keep the children busy. All our staff have been trained and gained experience along with holding valid wwcc. Party Chameleon is also fully insured with $20mill Public Liability.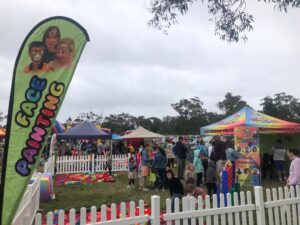 Roaming & Roving Entertainers:
Party Chameleon can provide professional roaming children's entertainers for a wide range of various corporate and retail events. Entertainers are a great ice breaker, meeting guests as they arrive at your venue is a excellent focal point and topic of conversation.
Within the first fifteen minutes of your function a positive feeling is created and therefore a good impression of your company is established. Roving Entertainers are excellent for socially dynamic events such as parties, product launches, corporate events, festivals, shopping centre entertainment and seated events. They can break the ice between your guests and/or patrons and introduce some social entertainment. Roving entertainers are great for larger venues where the entertainers are able to walk around and interact with parents and children. Our characters are all child friendly, very entertaining and provide great memorable photos. Our Children's characters can entertain both adults and children and perform various skills such as promoting a product or simply entertaining and mingling with the crowd .We have a wide selection of wonderful children's characters to choose from to suit any theme or occasion including Fairies, Clowns, Easter Rabbit, Christmas fairies, Princesses and Pirates. 
Face Painting: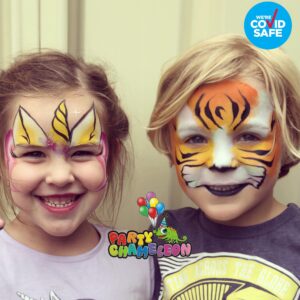 Face Painting is a fantastic form of entertainment that is perfect for parties and larger events. Party Chameleon uses only high quality face paints that not only allow you to look great, but are safe to use on the skin, especially children. The face paints we use are specially formulated to be friendly to the most delicate skin and are fragrance-free, hypoallergenic and non-toxic. The face paints are all water-based, so they're as easy to get off as they are to put on,  washes off easily with warm soapy water and does not stain clothes. Glitter is also used to enhance the overall effect of the face painting design and is very popular with children of all ages. Party Chameleon also brings along safe cosmetic grade glitter for those who would like to look extra sparkly. Our extensive experience and training allows us to create high quality designs at a quick speed. Children can choose from popular designs, or let their imagination guide them. Party Chameleon can create beautiful original full face designs or little designs for the cheek or hand.
Balloon Sculpting:
Everyone loves balloons so why not give them a exciting balloon that has been sculpted to there choosing. Kids love the more than 30 vibrant colours and unique shapes and sizes we can bend and sculpt. We can make a range of balloon sculptures – dogs, cats, swords, giraffes, swans, birds on swings, flowers, planes, butterflies, bees, hats…… and more. We use latex balloons which are made from 100% natural latex — not plastic. Our latex balloons are biodegradable, and decompose as fast as an oak leaf in your backyard!
Kids Disco:
If your looking for a interactive kids dj to keep the kids busy with the latest tunes and games we have you covered. Our mobile set up is perfect to have at you next venue, from school disco's to private corporate events. Our experienced dj has provided entertainment regularly for clubs for school holidays, Halloween, Year 6 farewells, Christmas Celebrations and more. With our professional speakers, lights, smoke machine & all the popular music we also provide a variety of interactive games tailored to suit the age of the kids at the disco.
Activities: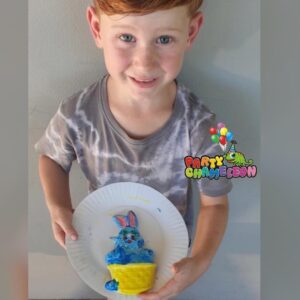 Party Chameleon can provide a range of activities at corporate events inlcuding shopping centres, kids holiday programs, private functions, caravan parks and more. From plaster painting, drawing, bead making, holiday craft, bubble blowing, group games and more. Party Chameleon is able to adjust different event plans to your specific needs when planning activities, let us know what you have in mind and we can work out a event package to suit.
Compliance:
Party Chameleon is fully insured with $20 million public liability insurance. We are also registered with the NSW Commission for Children & Young People.